Introducing our
customizable rollator!

You can ask yourself: "How do I characterize freedom?" This is a question we asked ourselves, and in our opinion, there is one clear answer: mobility. Being able to take yourself from point A to point B brings immense freedom with it. Staying in motion, exploring the world, having coffee with the neighbor, and visiting (grand)children. That's what freedom means to us!
You naturally want to preserve your freedom for as long as possible when you have limited mobility. There are various aids that can support you in staying mobile and stable in life. Mobility-enhancing aids can range from walking sticks to wheelchairs and rollators!
Over the years, with Vitility, we have released various rollators, but none looked and functioned like our brand-new rollator. With this, you will definitely be assisted from A to B.
During a journey, it can also be pleasant to take a break from time to time. Our rollator also serves as a seat to catch your breath during the walk or, of course, to enjoy a beautiful environment.
Our Rollator
70510550 - 70510560 - 70510570 - R.R.P. €299,99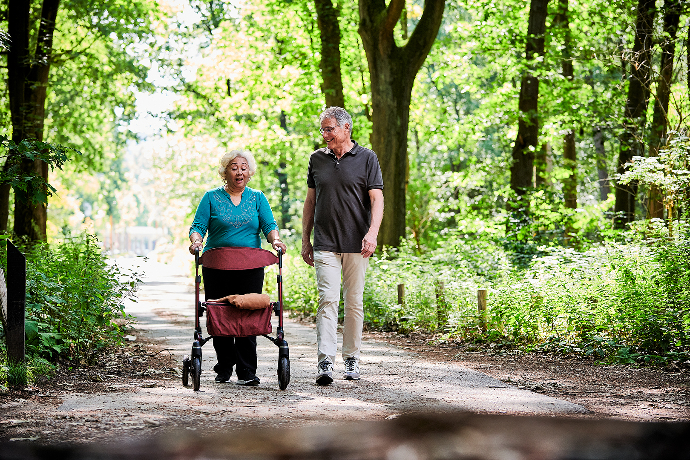 The compactness of the rollator is due to the double-folding system, which is a great advantage when there is limited storage space at home or in the car!

The rollator is equipped with a soft seat, backrest, and ergonomically shaped handles for a better grip and extra comfort. Moreover, it has parking and hand brakes, where you can manually adjust them. The brake cables are neatly concealed in the frame, which not only improves the product's appearance but also ensures safety by preventing loose brake cables that can get caught.

You can also adjust the height of the walker to your wishes. Change the height of the walker in no time using three positions!

Under the seat is a large bag for safe storage of belongings and a bag that fits a smaller wallet. These bags are attached to the walker and can be closed with a zipper to prevent theft.

The unique soft anti-puncture wheels provide excellent grip both outdoors and indoors.

This attractive design is available in sequoia red, forest green, and charcoal black. The three standard color models apply to both the frame and the fabric.

The possibility of personalization

A special aspect of these rollators is that you can mix and match the colors to your preferences! For example, you can combine a charcoal black backrest with a forest green frame! This allows you to choose the colors that you like best and that, for example, match your daily outfits the most!
The features of the rollator are.

Invisible brake wires.
From our vision, no visible brakes are ideal because you can get stuck in the cables. In addition, there is less chance of the wires breaking since nothing can get caught in it, which could cause a wire to come loose. In addition, the concealed brake cables contribute to the overall design picture.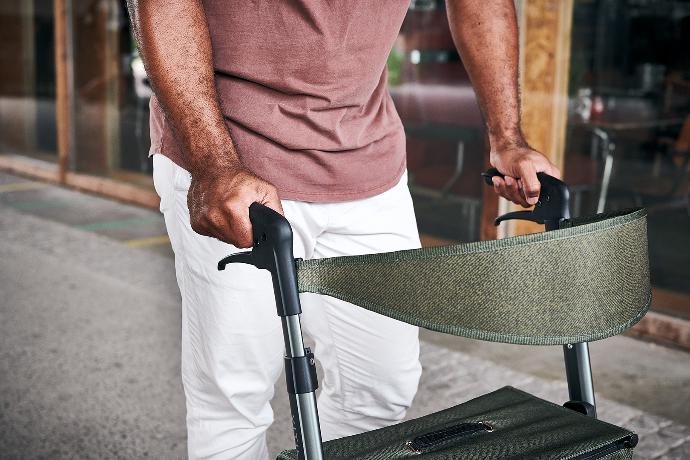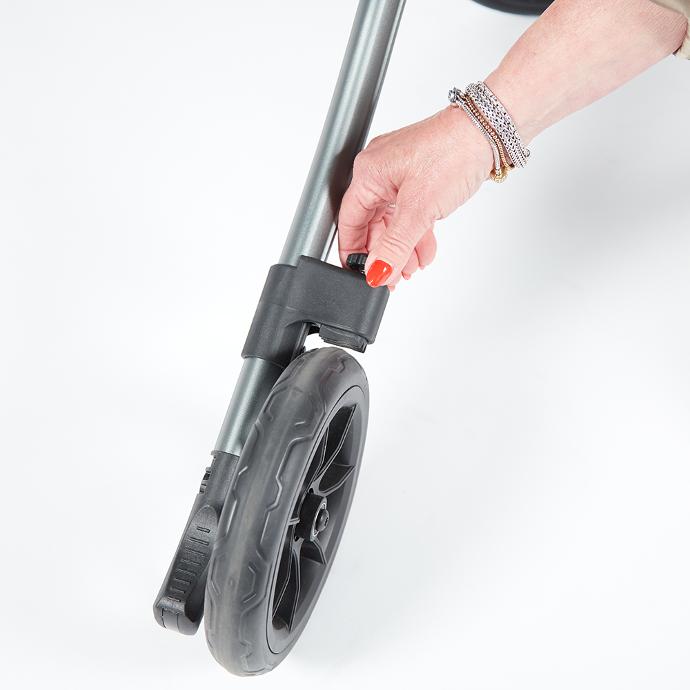 Adjustable brake pad.

Building on the topic of brakes… Normally, the brake pad on a rollator wears out, requiring you to re-tension the brake cables (which can be an added concern and require tools). On our rollator, there's an easily adjustable brake pad that allows you to make adjustments with ease. Adjusting the brake pad comes in handy as wear and tear occur over time, but you would have to cover some distance before that happens. A small bonus: if you want to make a pit stop, there's a hand brake on the right to easily park it.
Attractive Dutch design.
Likely one of the more important aspects for many… Namely, an attractive design! Since you use the product daily and put effort into wearing a beautiful outfit, it's somewhat disappointing if a rollator obstructs your moment to shine. That's why we considered it important to make the product look modern and luxurious. Furthermore, we want the product to naturally match the image of Vitility, luxurious and contemporary.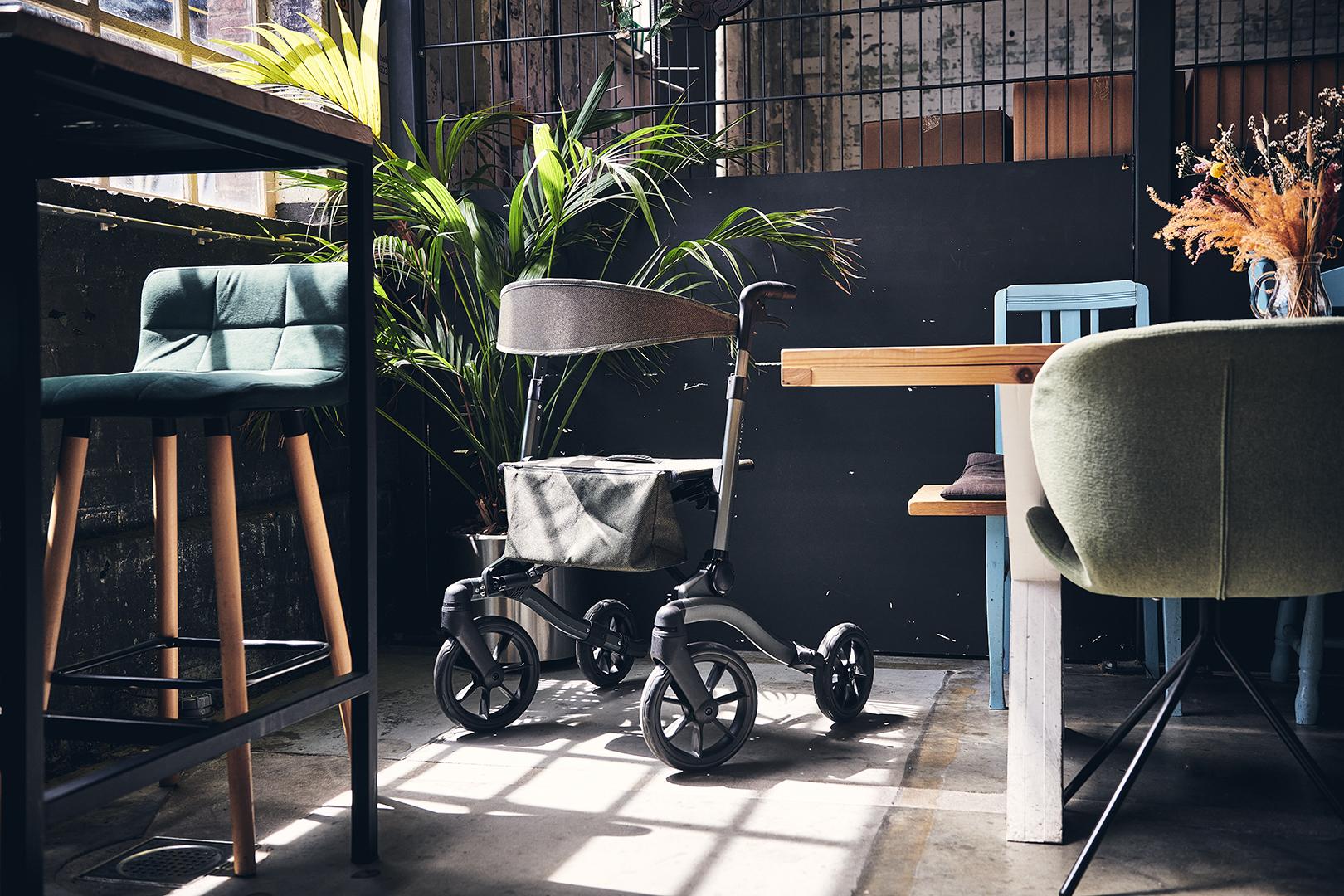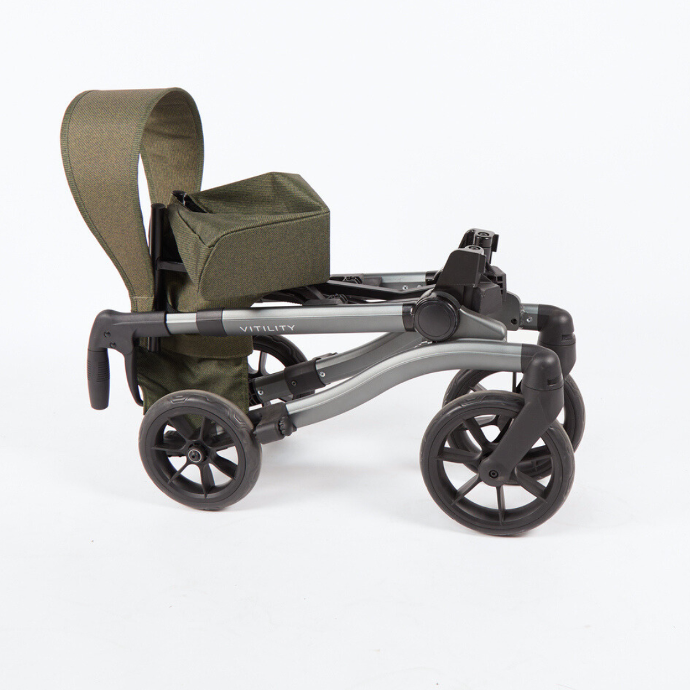 A double-fold compact system.

We previously talked about the importance of getting from point A to point B, and sometimes, a car is needed for that. It's unfortunate when you have limited trunk space and can't take your loyal companion along. To ensure that you can always bring the rollator with you, we took into account a double-fold system in the design process.
So, what does 'double-fold' mean?
You can lift the seat, which folds it once, and our unique hinge system ensures that the rollator can be folded again in a smooth motion.
This allows you to easily snap the product together and apart, making it ideal for compact storage, whether you have a small or large car!
Soft anti-puncture tires.
Of course, you want a good grip on the road, and for that, you need the perfect tires. What makes these tires so special is that they are soft, allowing for a smooth ride on the roads. Plus, you don't have to worry about getting a flat tire by the side of the road because you've had enough of those times! These tires are the perfect middle ground between standard hard solid tires and flexible pneumatic tires. As a result, you'll experience extra comfort because hard shocks during walking are dampened. Oh, and in case you were wondering about the material: rubber tires with strong plastic (EVA PU) rims.